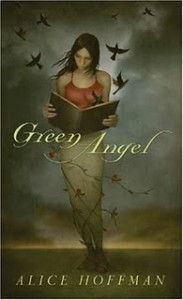 Are there books or texts you desperately want to teach, to introduce, yet never find the right moment? The place in the curriculum, scope and sequence, where a text resides permanently in outlier territory? Green Angel is one such novel for me. This Wish I Had Written That, authored by one of my favorite writers, Alice Hoffman, tells a powerful story of loss, identity, and regrowth. It's short, only 116 small pages, and is one of those stories that still leaves me aching and in awe over the human spirit. Some say it's a parable for the events of 9/11, and while that may be the case, it's themes lend themselves to catastrophe and devastation over time and space.
Some guiding questions:
Closely read the colophon: Describe the structure of the text, and question why the writer requested this. (Buy a copy of the book or review on Amazon to understand this lens–do not want to impede on its copyright laws.)
Closely read the introduction–who is speaking? What are they telling us, and in what timing? Why did the writer use this pacing?
Heart

This is how it happened I once believed that life was a gift. I thought whatever I wanted I would someday possess. Is that greed, or only youth? Is it hope or stupidity? As far as I was concerned the future was a book I could write to suit myself, chapter after chapter of good fortune. All was right with the world, and my place in it was assured, or so I thought then. I had no idea that all stories unfold like white flowers, petal by petal, each in its own time and season, dependent on circumstance and fate. The future is something no one can foretell. My family had always lived on the ridgetop above the village in a county where days were sunny and warm. At twilight, dusk wove across the meadows like a dream of the next day to come. People said we were blessed, and maybe that was true. My father was honest and strong. My mother collected blue jay feathers, preferring them to her pearls. My little sister, Aurora, was as wild as she was beautiful. 

Hoffman, Alice (2010-02-01). Green Angel (Kindle Locations 11-19). Scholastic Inc.. Kindle Edition.
There are multiple themes to discuss. Keep in mind not to steer students' thinking to ONE big idea–there are multiple discussion points.
"Or that the book is a commentary on the value of our memories. All rich books have several themes. When a teacher predetermines "the" theme, the teacher also predetermines the students' thinking. So what do I mean when I say I want students to generate their own thinking? Let's return to The Giver, for example. Before reading the novel, I would have told my students that there were several large ideas imbedded in the text and that their job as they read would be to identify one or more of them and to track the development of the ideas. After reading a few chapters, I would schedule a day for the class to revisit their reading. Instead of assigning a theme to track, I might put them in small groups and ask them, "What's worth talking about in this chapter? What big ideas are beginning to emerge?" "
Gallagher, Kelly (2015-02-28). In the Best Interest of Students: Staying True to What Works in the ELA Classroom (Kindle Locations 2873-2879). Stenhouse Publishers. Kindle Edition.
I highly recommend this secondary-level novel if you're doing any teaching discussing and considering loss, identity, destruction, regrowth, sibling and family relationships, etc. Add informational texts from 9/11, and use StoryCorp and This I Believe to hear real narratives. It's an opportunity to compare how the writer crafts a narrative to tell a 'true' story, and how truth, fact, and opinion often live together.
Ah, what a wonderful world with so many stories to tell…
Postscript: Writing opportunities–
*Write a brief analysis of how the writer introduces the main character, and how this supports style/craft.
*Write a quick narrative introducing the story from the sister's point of view.
*Write a news report of the events.
*Write a perspective from the attackers' point of view.
Key Ideas and Details:
CCSS.ELA-LITERACY.RL.8.2
Determine a theme or central idea of a text and analyze its development over the course of the text, including its relationship to the characters, setting, and plot; provide an objective summary of the text.
Craft and Structure:
CCSS.ELA-LITERACY.RL.8.4
Determine the meaning of words and phrases as they are used in a text, including figurative and connotative meanings; analyze the impact of specific word choices on meaning and tone, including analogies or allusions to other texts.
CCSS.ELA-LITERACY.RL.8.6
Analyze how differences in the points of view of the characters and the audience or reader (e.g., created through the use of dramatic irony) create such effects as suspense or humor.