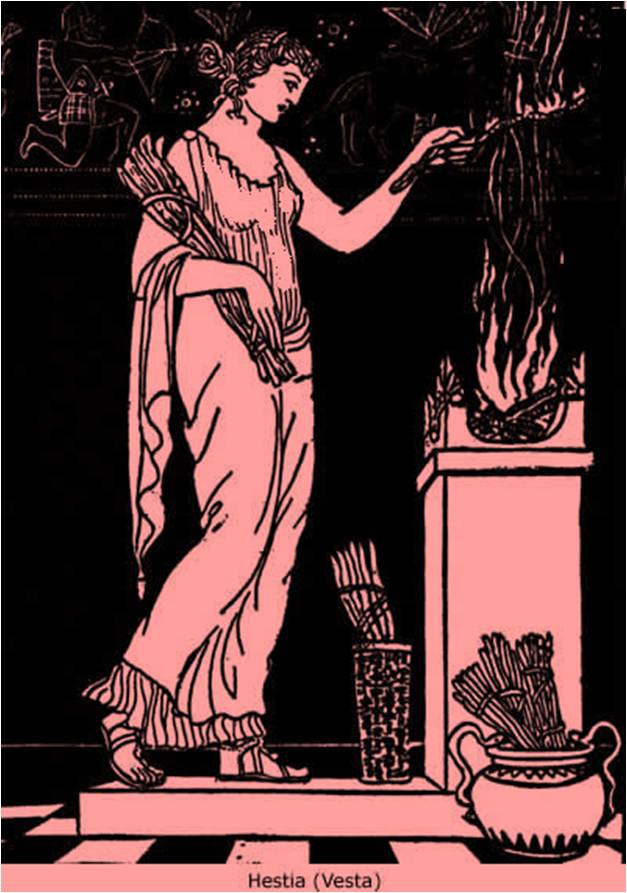 Hestia is the Greek goddess of hearth and home. While Hera (Roman counterpart, Juno) rules over marriage, childbirth, and family life, Hestia is the happy house-frau, ruling over domestication and household harmony. She never orders take-out or pizza.
Though she has some big-time suitors, she doesn't marry. She rules over the daily bread, the cooking, and keeping "the home fires buring."
HESTIA was the virgin goddess of the hearth (both private and municipal) and the home. As the goddess of the family hearth she also presided over the cooking of bread and the preparation of the family meal. Hestia was also the goddess of the sacrificial flame and received a share of every sacrifice to the gods. The cooking of the communal feast of sacrificial meat was naturally a part of her domain.

In myth Hestia was the first born child of Kronos and Rhea who was swallowed by her father at birth. Zeus later forced the old Titan to disgorge Hestia and her siblings. As the first to be swallowed she was also the last to be disgorged, and so was named as both the eldest and youngest of the six Kronides. When the gods Apollon and Poseidon sought for her hand in marriage, Hestia refused and asked Zeus to let her remain an eternalvirgin. He agreed and she took her place at his royal hearth.

Hestia was depicted in Athenian vase painting as a modestly veiled woman sometimes holding a flowered branch (of a chaste tree ?). In classical sculpture she was also veiled, with a kettle as her attribute.
In ancient Roman times, "Vestal Virgins" were priestesses who served the goddess Vesta, the Roman equivalent to Hestia. There weren't a lot of career options for women back in the day: Be a peasant, a slave, a wife, midwife, or virgin priestess. Think of it as "Limited Choices Barbie."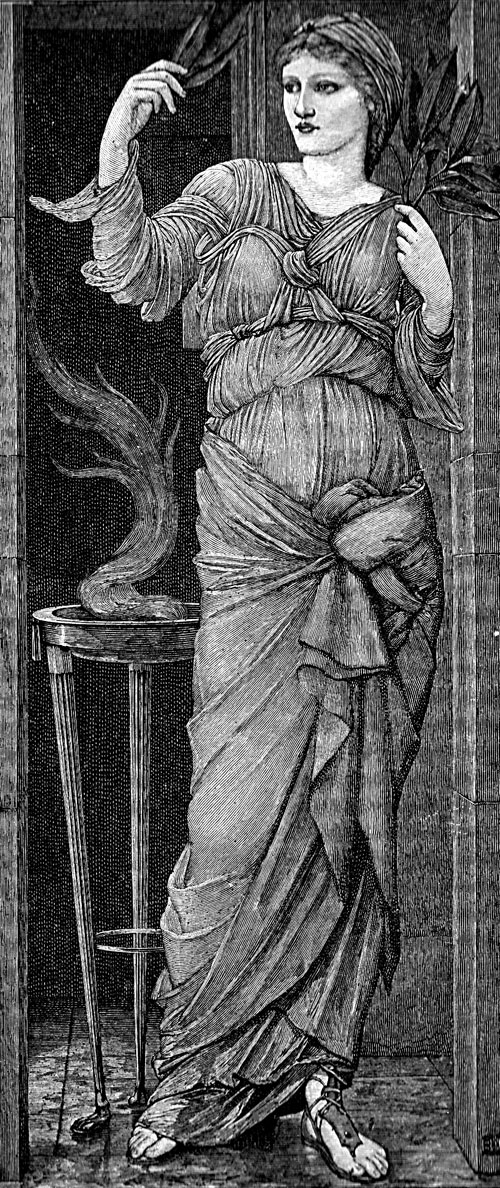 I think the word choice of "cult" is an interesting one; as if women had other options! Sheesh! Sorry, silly girls–you can only opt for a brainwashing than consider this an option for your lives.
I have told this story before, and I will tell it again. Get over it. When I was in second grade, a little boy asked my beloved teacher if she believed in "women's lib." (This was 1972, after all.) She said no, because she liked the doors being opened for her.
I am sorry that so many women were so short-sighted that the "door opened for them" was the literal doorway in front of their noses, and not the figurative "door opening" of opportunity. I knew at age 7 that it was about CHOICE.
Now women have the choice to pursue a career or be a "stay at home" parent. But ironically, this choice is somewhat hollow. We all have to work, we all must work and earn an income to maintain the American Dream lifestyle, or even have a remote chance of achieving it.
I wonder what Betty Draper would say about having to have a career and run a household, too. One of the biggest myths of the 20th century is the one of the "stay at home mom." Moms have always worked. There was a brief period in the 1950s and 1960s where, after WWII, the men came home and filled the jobs that had been held by women (including professional baseball), and if those men earned a salary that could afford their wives to stay home with the children, then it was expected that those women would, indeed, stay home.
My great-grandmothers worked, my grandmothers worked, and both my mother and mother-in-law worked (my mom still does). I laugh, with a little edge, over women who pit against each other over whether or not they work or stay home when their children are small. Never trust a woman who says she can't be friends with another woman, first of all. The real fight was for choice. Now many women who would love nothing more to stay home with their small children can't afford to because of divorce, or simply the fact that a modest, working class or middle class income can't support the basic American "fixtures," such as the rent/mortgage, communication fees (cell phones, phones, Internet providers, etc.) and other commodities that have become staples. Add food to the list.
Don't misunderstand this; who gets to stay home and who doesn't is a big issue. Women who have children and want to work, should. Women who have children and want to stay home, should be able to. I cherish the time my husband and I decided to make major life changes (including a move across the country) so I could be home with our baby, and then our second baby. But Fate decided another path, and off to work I went. I feel lucky for the time I had. It was hard, it was often boring, and often very isolating. I tried to join a new playgroup when we moved only to be told it was full. I loved when my older son started kindergarten, and I became an art docent (which led me to a path of teaching).
But this isn't about my standing on a soap-box and preaching women's rights. It was intended to be about something that is eternal and important: we need homes, hearths, and heart. We need a center, a family, an anchor to guide us back to our centers. We need mothers, aunties, sisters, and friends to warm us in light, hope, and love. My wish to Hera and Hestia: give mothers the choices they deserve. Create a world where mothers are supported in their care of the world's children. Give them the creativity and strength if they choose to continue their own pursuits as well. Give respect to mothers who nurture and care, whether they are home all day or not. If we were fighting for equal rights it's only because it would make us stronger to keep humanity stronger. It is pure, it is good.
Welcome home.