Last year one of my students had one of those lightbulb moments, that eureka shake up, awesome anagnorisis,  where she completely understood what I meant by the concept of the difference between topic and theme.
This is a biggie. It's important because it means I can do it. Because teaching theme…teaching it well that is..isn't easy.
So on Thematic Thursdays, there is intentional time to do just that, however the strategy, whatever the current unit of study.
I am a lifelong devoted scholar of the study of themes, and yet, it is as painful to teach for me as doing my own dentistry sometimes. I need to just get over myself. Some teachers know how to simplify teaching theme, distill it to its most essential elements. This anchor chart isn't a bad place to start, but it's that last sentence starter that doesn't hold up for me. Is theme a formula–if x then y? I don't think it is. And I am also not sure if the author is always in control of one lesson in a work, be it a novel, poem, dance, art, or music. The danger is telling students there is only one answer. Theme is not a main or central idea. The central ideas help create the possible themes.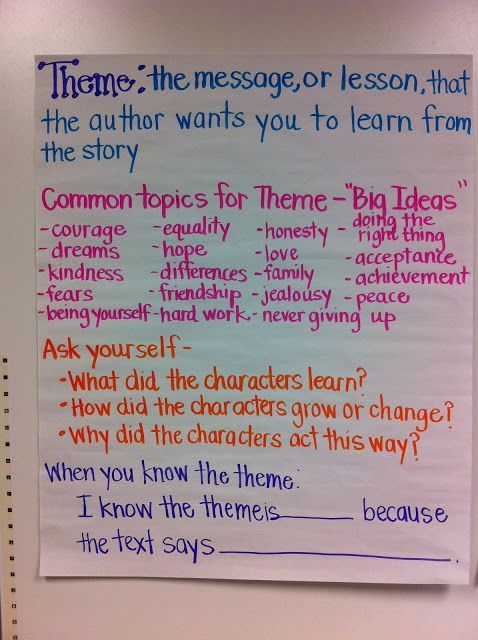 However, I approach teaching and discussing themes more like an alchemist. So what happens on Theme Thursdays? Again, any number of things. An exploration of a current unit, question, time to bird walk and discuss, muse, or laser focus on symbolism and motif? Creation of personal themes, missions, pledges, for one's own narrative. We can look at art, read a poem, or perhaps prepare for Film Fridays.
This is a PowerPoint I created years ago. It still holds up pretty well. 
[embeddoc url="https://blog0rama.edublogs.org/files/2016/07/Themes_in_Literature-2ii4cvh.pptx" viewer="microsoft"]
Tim Shanahan has a pretty good post about this: http://www.shanahanonliteracy.com. I invite anyone who has something to add to this discussion to please do so: how do you 'teach theme' — is it by definition and then exploration, or the other way around?